Our Cookbook Club is meeting once again!
Please join us on the 2nd Wednesday of each month to share our prepared dishes and experiences with recipes from the selected cookbook. Books will be held at Circulation three weeks before the meeting. Dishes must be ready-made (no kitchen is available for preparation) and please provide your own serving utensils. 
Registration is required for this program and you must register at least one day in advance. For more information or to register please contact our Reference department at reference@westerlylibrary.org or x306.
This month, we'll be sharing recipes from Simply Julia: 110 Easy Recipes for Healthy Comfort Food" by Julia Turshen.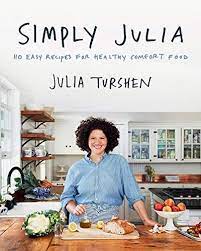 The following recipes have been reserved:
Ricotta + Potato Chip Fish Cakes with Peas, page 17
Street Fair Stuffed Mushrooms, page 29
French Onion Meatloaf, page 37
Stewed Chickpeas with Peppers and Zucchini, page 66
Spinach and Artichoke Dip Chicken Bake, page 81
Sticky Chicken, page 82
Honeymoon Chicken, page 97
Creamy Roasted Tomato & Orzo Soup, page 112
Italian Sausage, Farro, and Tomato Stew, page 116
Palm Springs Pearl Couscous and Citrus Salad, page 128
Honeyed Apricots with Cream Cheese and Pistachios, page 188
Card Night Ginger Cookies, page 206
Pear, Polenta and Almond Cake, page 219
Coconut Pound Cake on page 217