Read All About It: Sun's Back Issues Go Digital, Courtesy of Westerly Library
November 20, 2023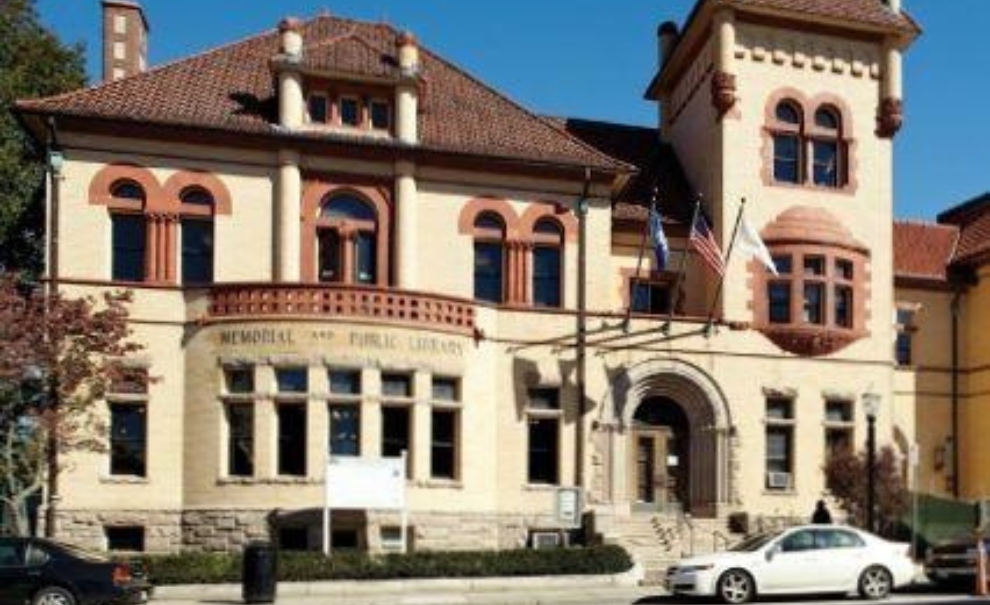 A treasure trove of local history and news spanning seven decades and more than 150,000 pages is now available to anyone with access to the Westerly Library's website.
Digital images of all surviving issues of The Westerly Sun from its launch in 1893 up to late 1950 are available for free, thanks to a project by the library's local history department to move the community's newspaper from microfilm to the web.
"For many years the microfilm machine has been in heavy use," local history and special collections librarian Nina Wright said. "We knew we needed to get it digitized. People have spent hours upon hours when they have a detailed search here."
The work is continuing, with the hope that issues in subsequent decades — the 1950s and beyond — will eventually make it online.
The archives are accessible on the library's website, westerlylibrary.org, under the Library drop-down menu, and by selecting Local History & Special Collections.
"I researched my house, the park. It's amazing what stories you can find," library Executive Director Brigitte Hopkins said.
The new archive is a boon to anyone interested in Westerly and surrounding towns, such as historians, authors, scholars and genealogists. Research can be done from anywhere at any time, from home or when the library is closed.
"It's such a game-changer," Wright said.
Gone is the need, she said, to thread reels of microfilm onto a special reader only available at the library. Or, to go to the basement and lug out the library's heavy bound volumes of old pages that are, in many cases, literally crumbling.
What's more, in addition to quickly calling up high-resolution, black-and-white images of each page, the new system allows anyone to type in words or names and retrieve results through a search engine.
"Not only is it digitized, it's searchable so you can put in keywords or word combinations," Hopkins said.
Wright said searching for something in the paper the old-fashioned way — sitting for hours and scrolling past one filmed page at a time — is laborious and hard on the eyes. Such was the case with a former library board member who was researching Winnapaug near the end of the pandemic.
"He would sit here for hours. It's hard after a while," said said. "We had to look at every day's paper for each summer. He probably spent a month or more here."
He still didn't find everything he was looking for. But a new search with the online platform pulled up dozens of new results within minutes, Wright said.
The first 10 years went online last Dec. 2, thanks to a grant from the Friends of Westerly Library and Wilcox Park. The first batch of 17 microfilm reels cost $3,065 to send off and be digitally scanned. The reels were then returned to the library for safekeeping.
The library received a state legislative grant for $1,000 that enabled another six reels to be done, and then a grant from the Institute of Museum and Library Services for close to $25,000. The second batch contained 148 reels.
Currently the fee per reel is $175 plus a small administrative cost, Wright said.
The library has only one working microfilm reader, and there's a one-hour time limit on it when demand is high. Nearby, an older-model reader where the reels are turned by hand has an "out of order" sign on it. The bulb had burned out and getting a replacement was problematic, Wright said.
Digitizing more of the paper is dependent on money from grants and donations.
"A lot of people have been super generous and donated as well," Wright said.
Back when Volume 1, Number 1 of The Sun — with a price of 1 cent — came out on Aug. 7, 1893, its publisher, George H. Utter wrote: "The Daily Sun is presented to the public as the natural outgrowth of a weekly newspaper established in Westerly more than 35 years ago. It has come because the publisher believes that this community has reached a place where it wants and can support a newspaper devoted to local affairs which is issued more frequently than once a week."
Perhaps most famously, The Sun was the first paper to deliver the news of the attack on Pearl Harbor on Dec. 7, 1941. That issue's online, too.
By the time the current archive concludes on Sept. 29, 1950, the front page is full of news about the Korean War and fears about "Red China." In the bottom right corner is a small story headlined, "Westerly living standards above average in country."
Keeping the newspaper collection easily accessible is a key focus for the library.
"We need this history available," Hopkins said.
By Ryan Blessing Sun staff writer. This article appeared in the Westerly Sun on Monday, November 20th, 2023.