Spooky Season at the Library
October 03, 2022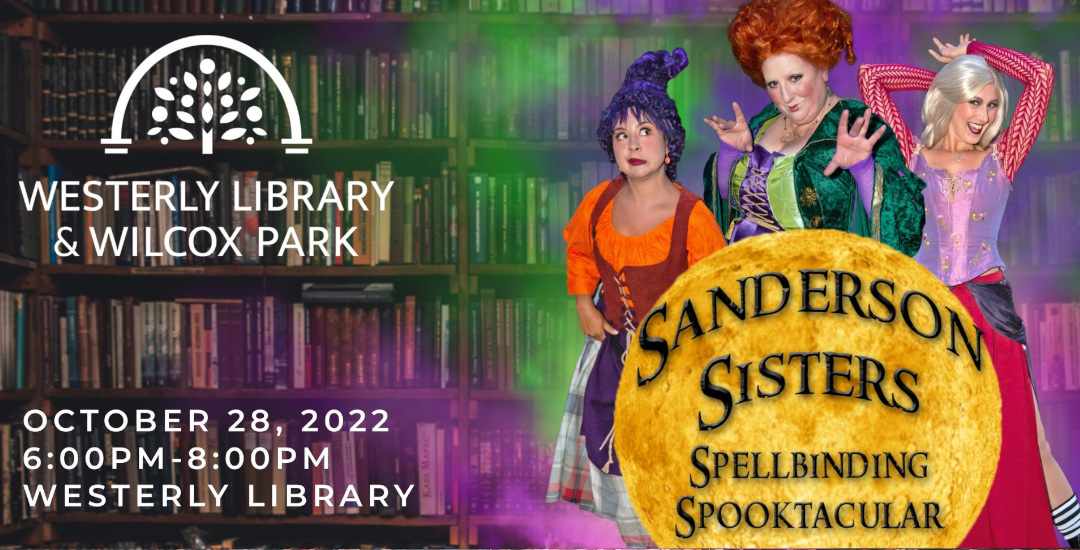 Fall is here! The hot lattes are flowing, pumpkin flavored Oreos and toothpaste are hitting the shelves, and it's time to pull your Halloween décor out of storage and prepare for the season. If you're ready to get into the spooky spirit of things, there are plenty of festive programs taking place at the library this month.
You may have heard that "Hocus Pocus 2" is now streaming on Disney+, something my fellow millennials and I have been looking forward to for nearly 30 years. If you're a fan of the original cult classic, you're in luck: the Sanderson Sisters are also taking over Westerly Library for an evening of enchantment! On October 28th, join everyone's favorite witches for some hocus-pocus that is sure to leave you cackling. The Sanderson Sisters' Spellbinding Spooktacular is an original 45 minute scripted musical comedy performed by Simply Enchanted. Fundraiser attendees will enjoy a cocktail hour featuring putrid potions and vicious vittles before the show. Witchy wardrobes are encouraged! This event is not appropriate for children. Tickets are $45 per person and are available online at westerlylibrary.org/witch. All proceeds from this fundraiser support Westerly Library & Wilcox Park. 
While our fundraiser caters to the adult crowd, we have some amazing all-ages events on the horizon as well. On October 21st from 4-7pm, everyone is invited to our Pumpkin Stroll in Wilcox Park. Enjoy complimentary cider and donuts, check out the pumpkins decorated by kids and adult in the community, and even vote on your favorites! Want to get in on the decorating action? You can pick up a pumpkin between 10am-2pm on October 15th; paint it, carve it, cover it in glitter and spaghetti…however you choose to decorate it! Just bring it back to the library by October 20th so we can show it off during the Stroll. Prizes will be awarded for the Spookiest", the "Most Original", and the "Most Artistic"! Questions about this? Contact reference@westerlylibrary.org.
We have a few special events for the younger gals and ghouls as well. On October 29th we have special programs for both teens and children where they can learn about Día de los Muertos (the Day of the Dead) and participate in related craft activities. If you're downtown on Halloween, make sure you swing by the library, where we'll have our own little party with some tricks, some treats, and a lot of fun. See you soon!
By Cassie Skobrak, Adult Services Librarian